Your Guide to All-Things Ziplining
Tuesday June 23, 2020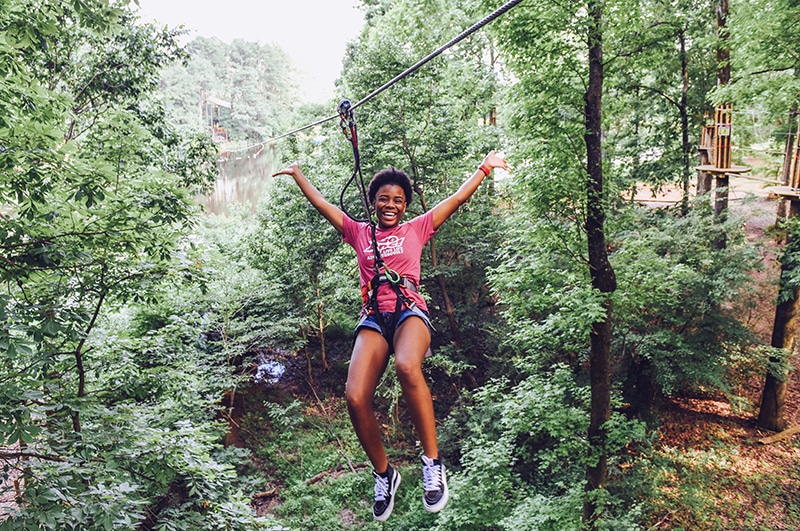 While Go Ape isn't only about ziplining (we're an aerial adventure ropes course with crossings, Tarzan swings, obstacles and more), ziplining is definitely one of the most exciting parts of your experience.
So, what is ziplining?
Ziplining is the closest (and most environmentally friendly) way we humans get to fly. I'll stand by that until hoverboards get off their wheels.
After being strapped into a safety harness and equipped with a wheeled-trolley, you will zip along a steel cable, also known as "the line" (i.e. a zipline!). The cable is designed on a slope to allow gravity to carry you from one side of the forest to the next. Expect to take in picturesque views and a few calls of the wild – or yells of excitement – along the way.
Why go ziplining?
Reasons include but are not limited to the following:
To appreciate new, unimaginable surroundings.
To enjoy a breeze on a hot, wind-less day.
To enjoy the feeling of weightlessness without losing weight.
To see the world from a new vantage point.
To have a cool story to tell at work/school/book club on Monday.
To escape from someone running after you.
To elevate your social media posts.
To have a great team building event with your coworkers/teammates/classmates.
To bond with your family and become the coolest parent in the world.
To release endorphins, those feel-good hormones.
To push your boundaries and challenge yourself.
To conquer a fear of heights.
To be happy. Do you like being happy? Us too. It's why we dedicate our days to getting everyone to live life adventurously.
What does it feel like?
The feeling is electrifying. It's exhilarating. In short, it's just plain awesome. When you push yourself out of complacent activities and do something uncomfortable, you produce adrenaline, which is to blame for the inevitable increase in heart rate, blood pressure, breathing rate, and metabolism. All of this combines to create a euphoric feeling that can last for hours.
What can I expect? What should I bring? What should I wear?
You can expect to sweat a little and smile a lot. Though zipline companies vary their recommendations, we suggest the following:
Check the weather before your adventure and dress appropriately for conditions.
Wear something you are comfortable in that you don't mind getting dirty.
Closed toe, closed heel, flat shoes that do not pose a risk of falling off are best.
Tie long hair back, preferably low.
Remove jewelry, accessories, and body piercings. If they cannot be removed, tape over them.
Arrive early to complete any necessary paperwork and hit the restroom in advance.
Please check our COVID-19 page for additional requirements during this time frame.
If you don't want to lose it, break it, or have it fall great distances, don't bring it (phones, car keys, wallets, etc.). Some organizations do offer holders for your convenience. If you're visiting a Go Ape course, ask about our phone holders so that you can take pictures without worrying that you may drop your most precious handheld device.
Can I zipline if I am afraid of heights?
If you are worried about your knees knocking and your arms trembling, you are not alone. Turns out ziplining is a fantastic way to overcome your fears! We are extremely proud to have helped many of our guests conquer their fear of heights. Believe us when we say you can and will overcome your fears if you really want to make it happen! Don't believe us? Check out this 4-step process to help conquer your fear.
Can I go ziplining if I am pregnant?
Hey, now. We're just your friendly neighborhood Go Ape blogger. We can't speak for medical professionals, but we do not recommend it. That being said, always seek your doctor's advice before partaking in a new adventurous activity.
Remember: Part of what makes Go Ape unique is that we offer a fully immersive forest experience, which means more than just ziplining. Our outdoor adventure experience includes having guests climb a rope ladder, stairs or a fisherman's trap to access the course. While up in the trees you will cross multiple obstacles before reaching the zipline.